Regular price
$49.97 USD
Sale price
$29.97 USD
Unit price
per
Sale
Sold out
This book has been written with the utmost desire to help those who suffer from endometriosis and adenomyosis. Understanding your condition at great lengths helps you make the best-qualified decision for your own health and well-being.
The concepts inside this book are slowly becoming the norm and setting the cornerstone of a new foundation for tackling diseases and ailments as we continue toward the future. 
Inside, you will find a wealth of knowledge on how to understand your condition, as well as natural remedies that can help you on your own personal healing journey.
Share
View full details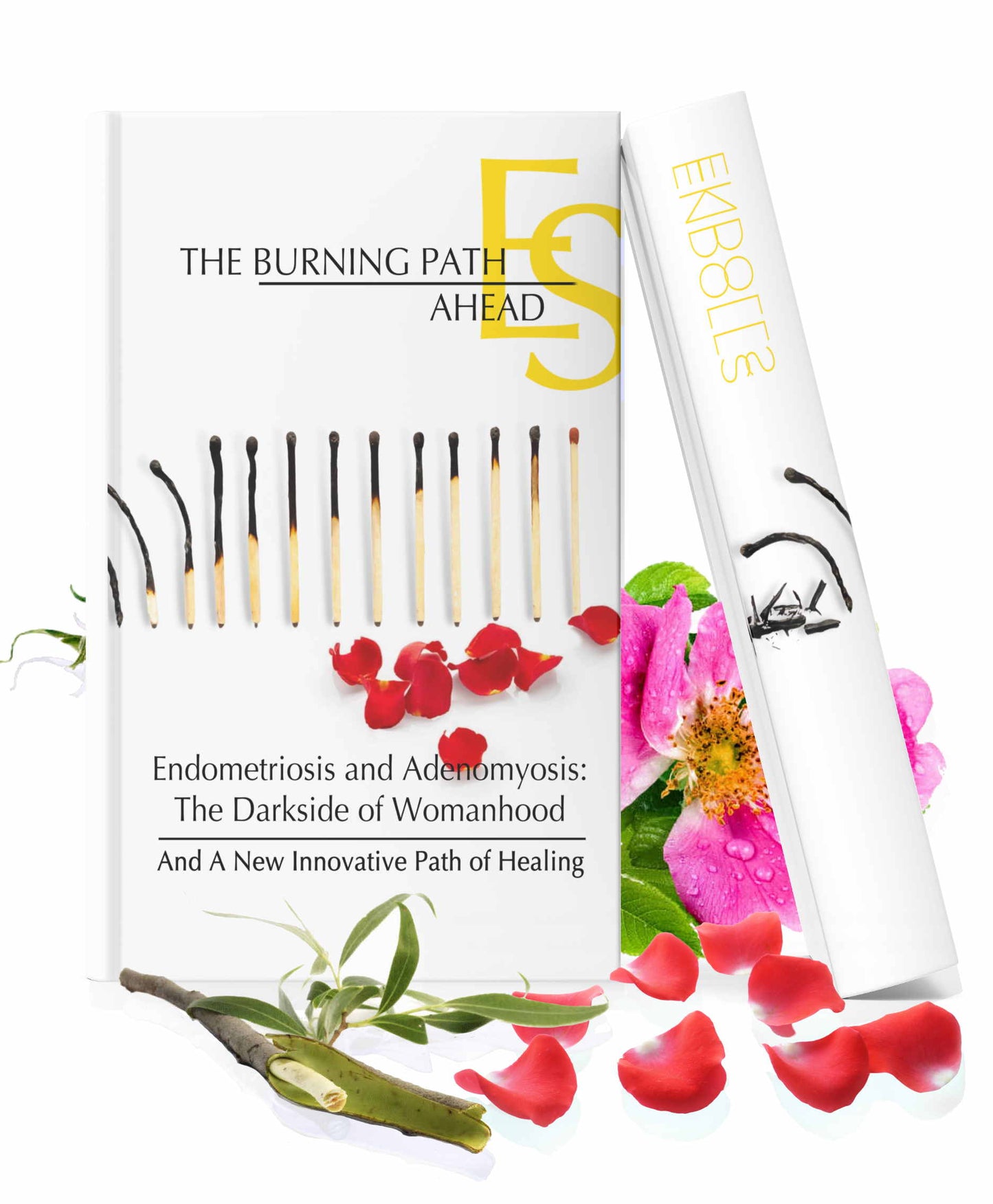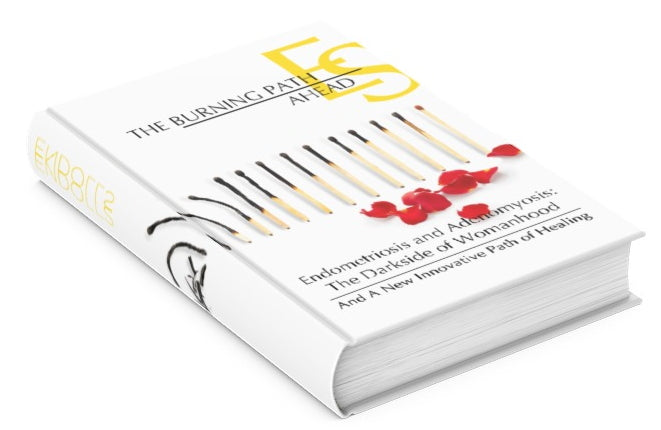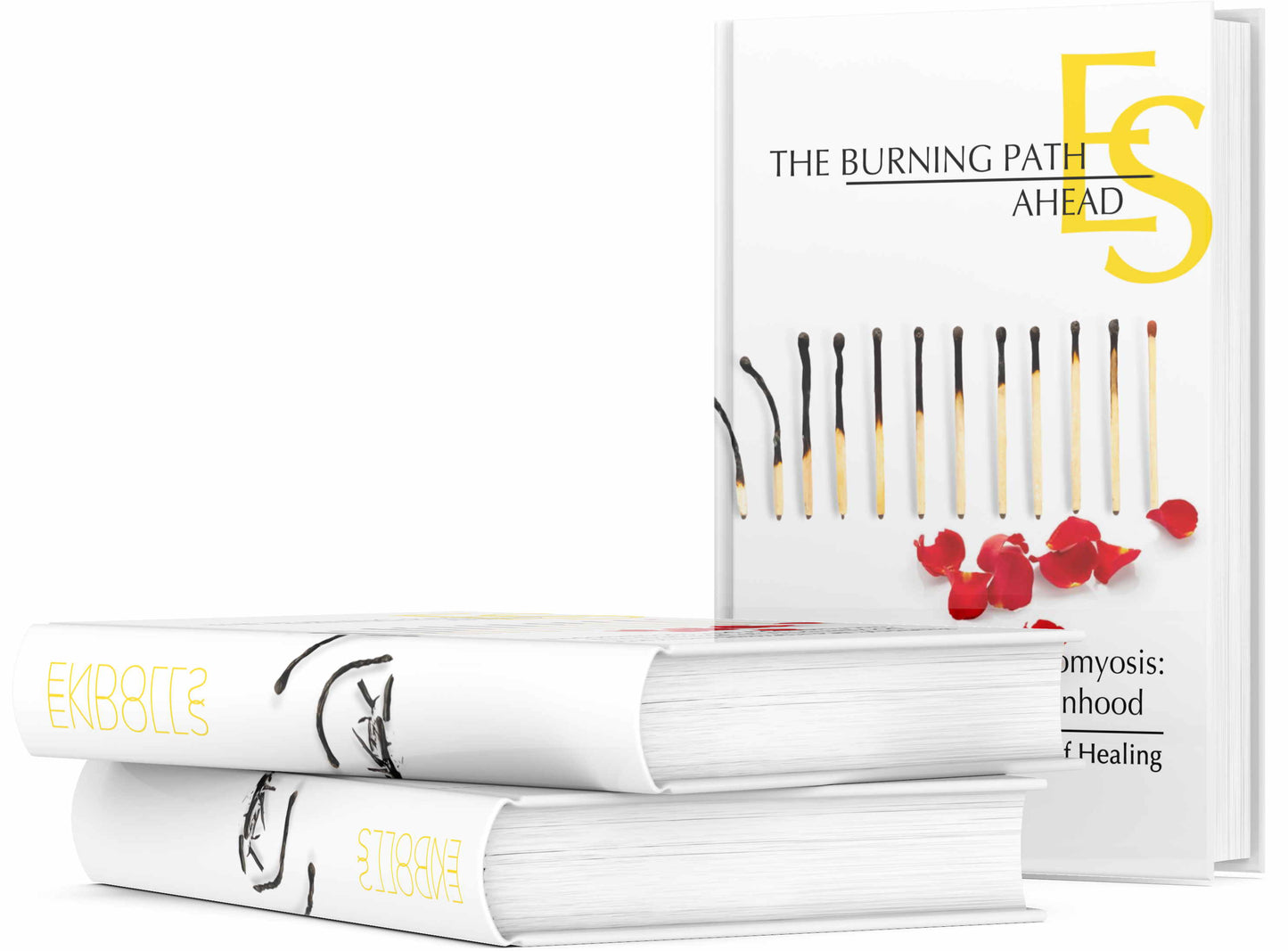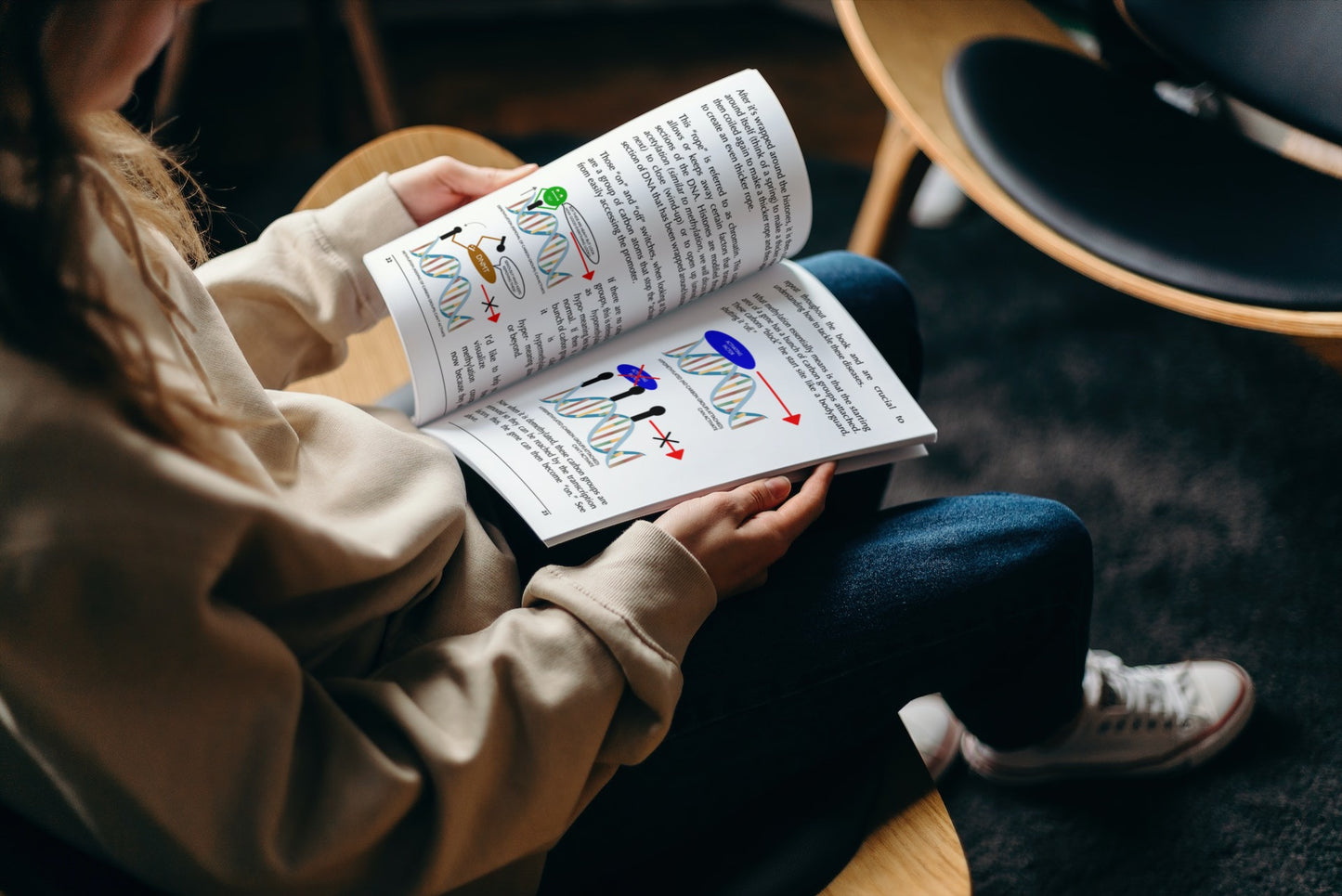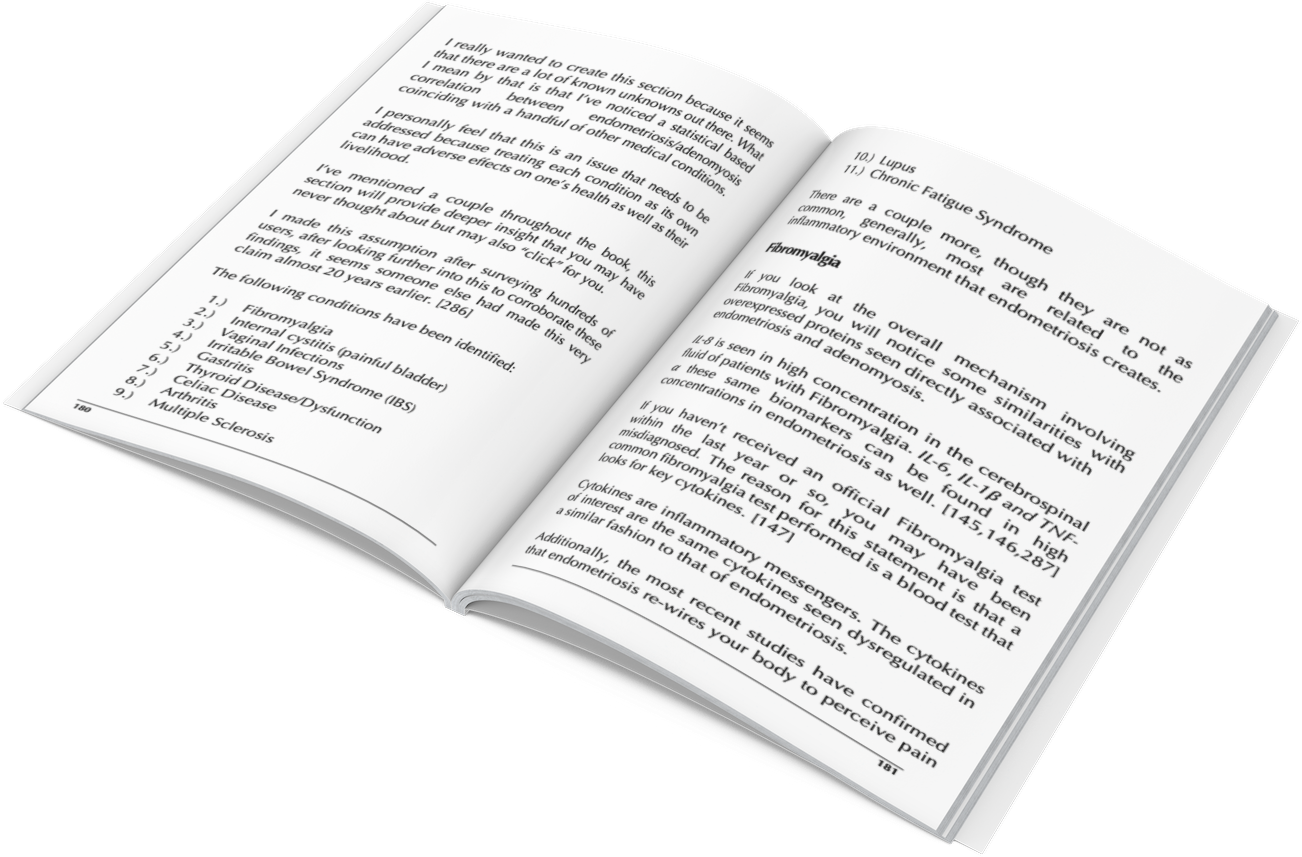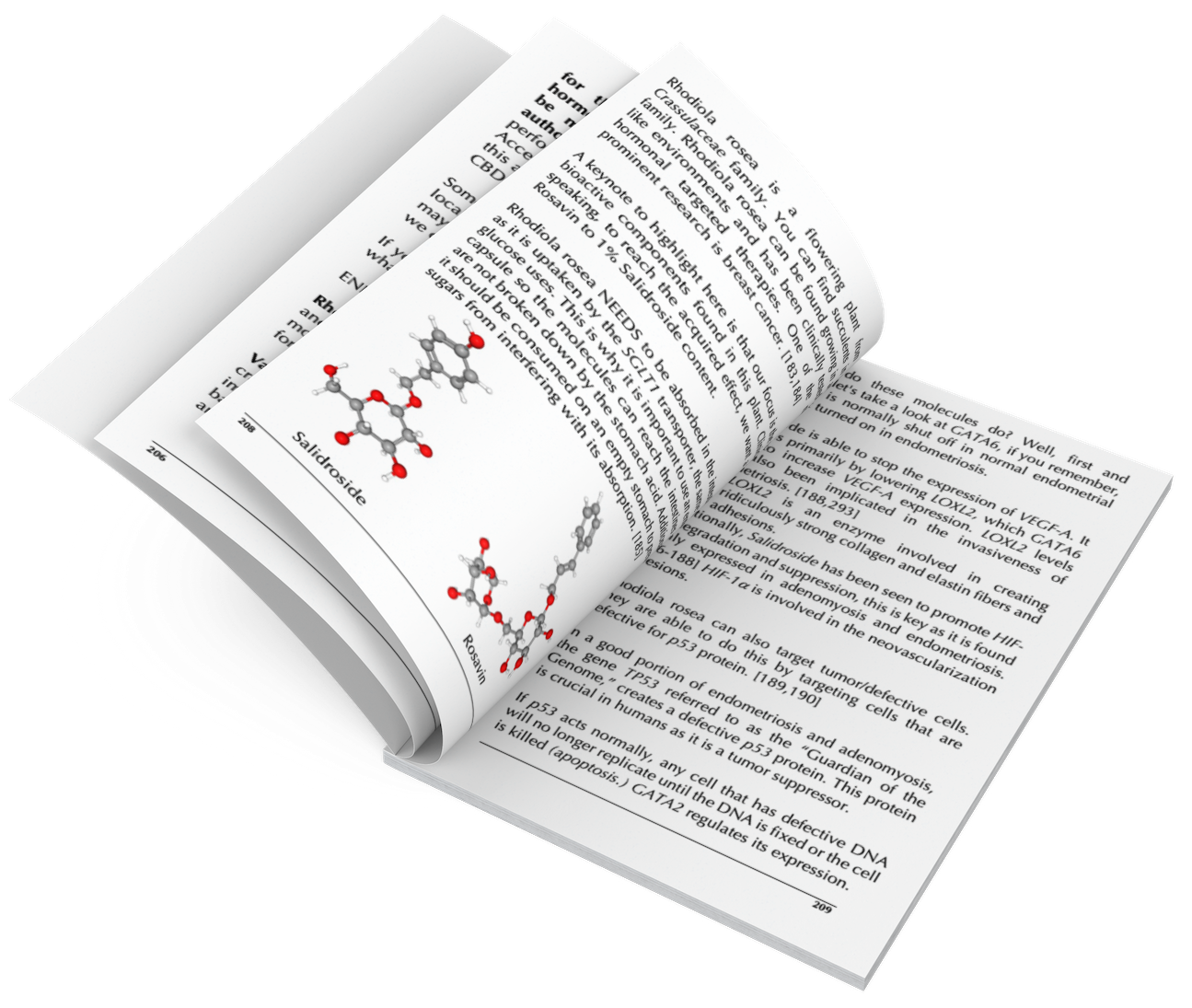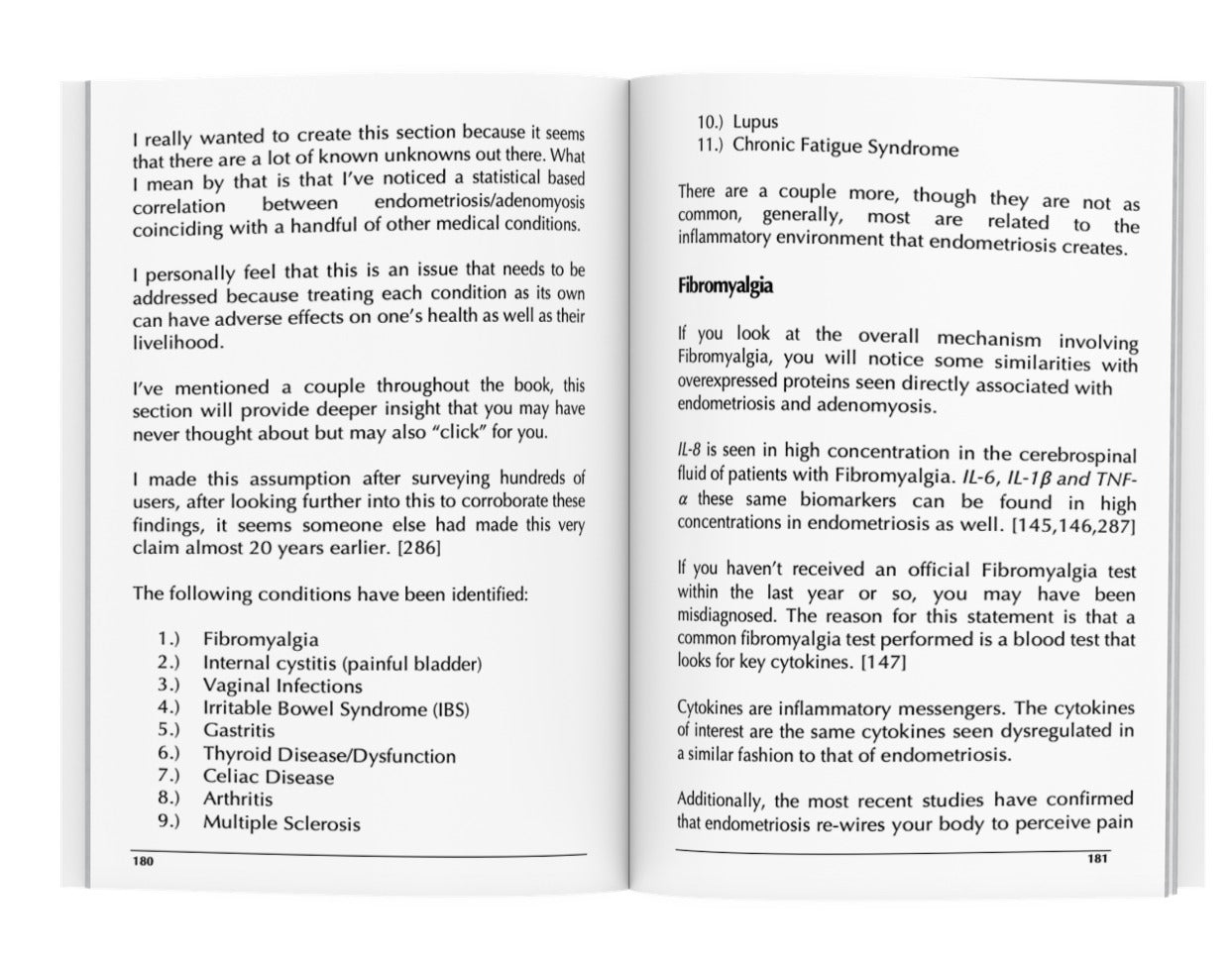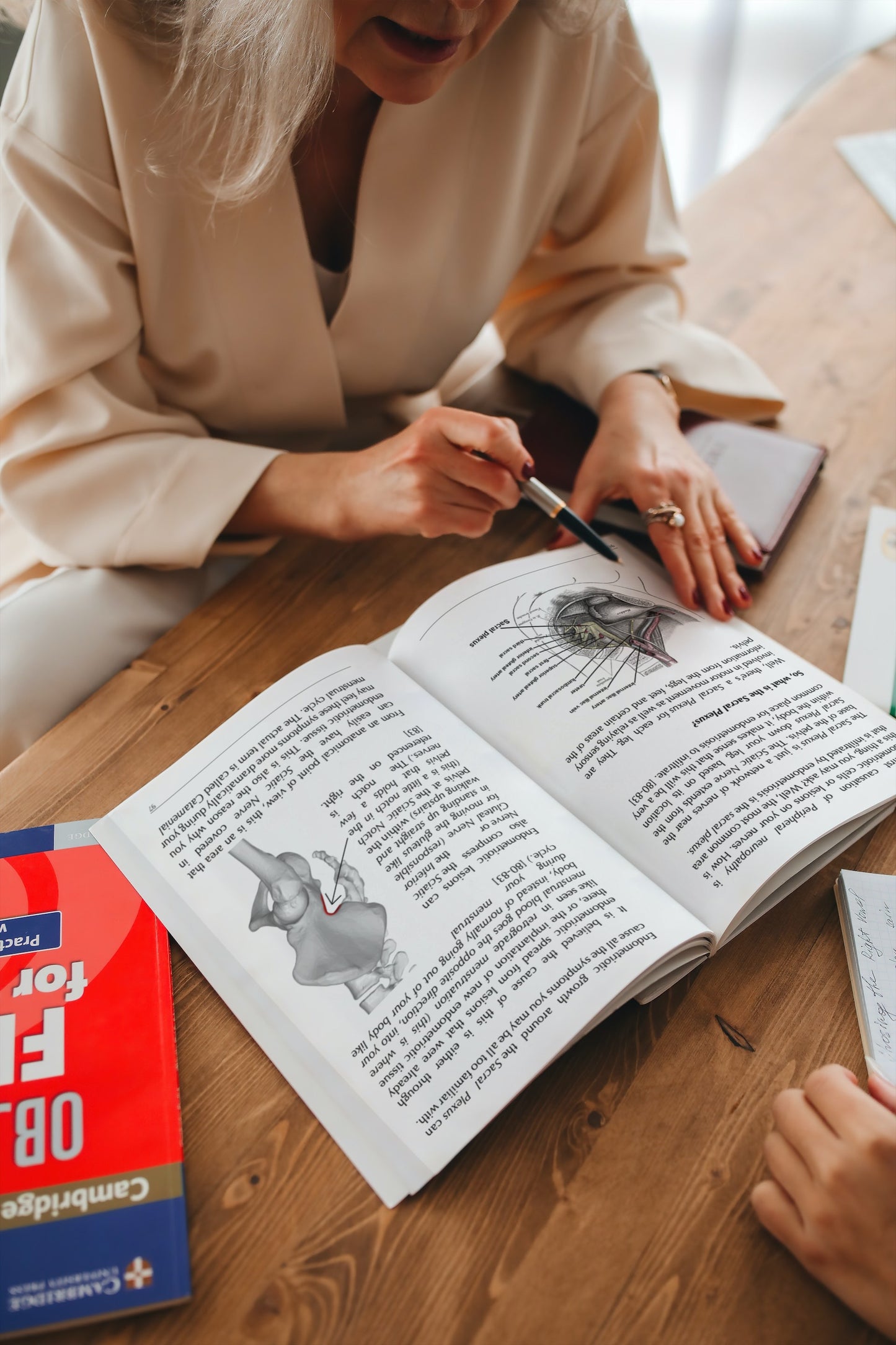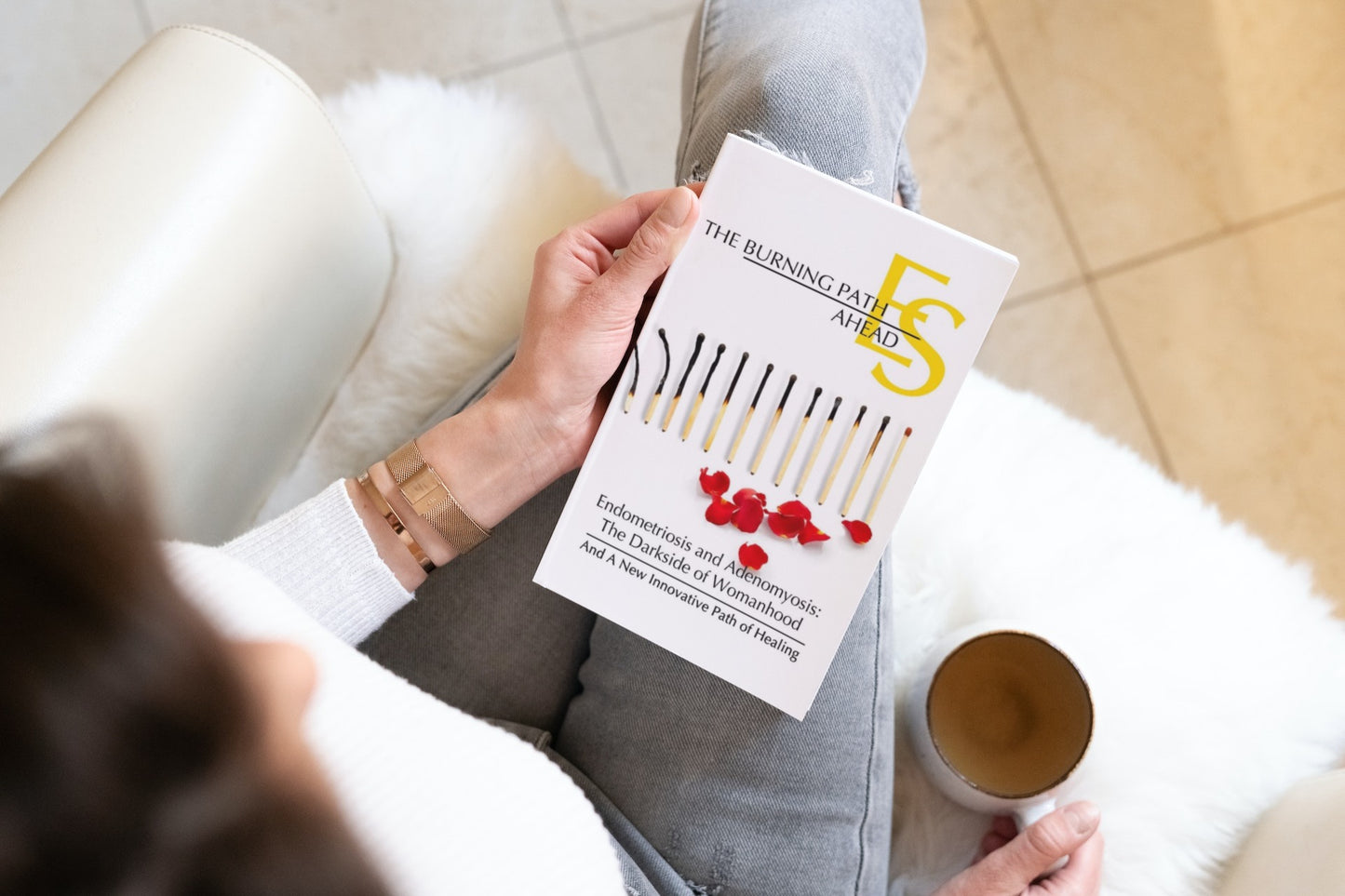 New FREE Book Breaks Apart Endometriosis & Adenomyosis
And explains every symptom with a novel way to combat it "
...The Burning Path Ahead Confronts Long Time Held Beliefs About Endometriosis & Adenomyosis through a Revered-engineered Approach!"
New Book Breaks Apart Endometriosis & Adenomyosis
And explains every symptom with a novel way to combat it "
...The Burning Path Ahead Confronts Long Time Held Beliefs About Endometriosis & Adenomyosis through a Revered-engineered Approach!"
What Is The Burning Path Ahead?
The Burning Path Ahead is not just another "generic" book about endometriosis or adenomyosis
It is NOT

about repeating the same traditional methods —

yet

the concepts will help you improve your endometriosis symptoms more than you have ever experienced before.
It is NOT

about using weird psuedoscience —yet the clinical data behind all our research will improve your condition

MORE

than your favorite heating pad.
The Burning Path Ahead

guarantees a removal of at least one symptom that very same day!

This is the first of its kind in over a century...
Rush a copy of my brand new hardcover book to you doorstep, ASAP!

ENDOLLS
Austin, Texas

My name is Jon, founder and author of The Burning Path Ahead. I'm part of a new movement in science that you have probably never heard of.

Yet you may have seen members in endometriosis support groups consistently leave with an improvement of symptoms and overall better quality of living.

Which is kinda crazy, especially considering the fact that this all started before I even enrolled in any biochemistry program, just an afflicted wife that was borderline about to end it due to her depression and a deep drive to help any way I could.
I had no idea on just about anything...
Believing that we were beyond advanced when it came to medicine and science... If we look a few years back, when I was active duty military, I had just came home from work. My wife told me that the doctors gave her a shot to help with her endometriosis and adenomyosis. I said, "How cool, she will finally feel better!"
She said, "the doctor said it supposed to make it go for away for a while." Little did we know that this shot will be taking her down a ride to her own personal hell. Sadly to say, this was just the beginning of what was to come...
Laparoscopies

- Followed with recovery time...

Birth Control

- Couple with fluctuating moods and lethargy... ​

Orilissa

- Ending with sever depression...
Fast forward a few years into the future, I learned a thing or two about biochemistry. Plugging in this knowledge into endometriosis and with in a day, symptoms started to drop off.
If your goal is to understand and control your symptoms, we have a step-by-step approach for that...

If you want to become fluent when talking to your doctor about endometriosis or adenomyosis we have a detailed walk through for that as well...
Shortly after we launched ENDOLLS, others started to see the same. All asking the same question, how can something like this exist when traditional methods caused nothing but havoc and pain to their lives.

In less than three months, people were living normal lives. We went international within a year and to date my wife has no more lesions, no more adhesions only to deal with the occasional flare-up.

The concepts and methodology that you will find inside these pages are the very same used to create the ENDOLLS formula that has helped thousands of women around the world.

This book will give you an in-depth insight at overall biochemical reactions and molecular pathways used by endometriosis and adenomyosis and how they affect your body so you can see where each symptom you have derives from and turn it down to near nothing.
Testimonials
We have had a lot of customers, have also received many reviews.
Let's see some of the things they have said about us.
"When I tell you that I read through this in 4 hours, I'm not joking... Within 4 pages I felt like I was going to get more information in this book than I had gotten in countless doctor's visits... I highly suggest picking this up and giving it a read."
- Theresa
"I was recently diagnosed with endometriosis... Finding this book from ENDOLLS has helped me understand my condition along with finding relief. All of the information inside this book is easy to understand.
- Kate
"I was diagnosed when I was 19 years old, I'm 37 now... This is such a different approach... this is not offering any weird cure but actually an opportunity to... live a happy normal life."
- Andrea
Inside This Book, Here Are A Few Things You'll Find...
See exact images of the content you will find inside this book!
Rush a copy of my brand new hardcover book to you doorstep, ASAP!
Endo & Adeno In A Nutshell Pg. 15
Thinking hormone therapy can help? DON'T! Read this book instead and you'll discover how your body works and what works with it... Learn exactly what is not functioning properly, and the appropriate road to increasing the efficacy of treatments.
Unveiling The Mystery of Mental Misery Pg. 33
The FIRST thing I tell all my clients to get them instant results. PLUS: You'll get an inside look at how endometriosis and adenomyosis affects your brain.

This can create a load of symptoms that can break you apart, if it hasn't already. (You may have even overlooked this yourself)
Unveiling The Mystery of Physical Misery Pg. 47
A conceptual approach that can make flare-ups and future symptoms "predictable" that has been used for years to control debilitating flare-ups.

(This step-by-step approach not only breaks down the conditions, but it is exactly how ENDOLLS was built.)
Positive Feedback, Not A Discussion Your Estrogen Needs Pg. 69
How to understand and know your estrogen cycle, and why knowing it allows you to build your NEW regimen BACKWARDS.

If you are tired of hormonal therapies you are going to love the foundation of comprehension this brings.
The Untold Story You Should Have Hear Of: Symptoms Pg. 77
Want to learn about symptoms you didn't think were related to endometriosis or adenomyosis?

What about how to tackle them so you can live a normal life again?

Most people are shocked with this section, as it comes with the biggest "Aha!" moments.
Fresh New Look AT Modern Day Treatments Pg. 137
If you understand how endometriosis and adenomyosis looks like, how it functions... think again!

(Hormone therapy alone is not enough.) I'll show you the most up-to-date data and techniques that have shown the most promising results!
The Great Unknown Pg. 179
The top 11 conditions that stem from endometriosis...

PLUS: How to start looking at the foundational targets that will allow you to reduce the risk of developing them.

This is specifically true for anyone that is using NSAID's like Advil, Motrin, Ibuprofen, etc.

AND I'll show you what to do and how to do it so you NEVER waste your time or money again.
A Reverse-Engineered Formula Pg. 203
A flawless combination of ENDOLLS Revitalizing+ and its counter part Renewal, approaches Endometriosis and adenomyosis from all sides all while brining you comfort.

Strategically targeting pathways that ARE CRITICAL for growth and maintenance of endometriosis.

Here I teach you the exact formula WE USE to actively break the foundations needed for successful implantation and continuation of endometriosis and adenomyosis.
The Art To Rejuvenating A New You Pg. 231
The distinct difference between living healthy and feeling healthy.

Understanding how to put all of the information together and implementing it to a lifestyle. Successful application can create the normal life you probably haven't had in decades.
And That's Just A Small Fraction Of What Inside This Book... You Will Also Get A Breakdown of Surgical Methods... Getting The Most Out Of Hormone Therapies And So Much More!
Rush a copy of my brand new hardcover book to you doorstep, ASAP!
Special Bonus For The First 10,000 People Who Order The Burning Path Ahead Book!
100% NO-RISK Promise

Order right now with 100% confidence

Read it for 30 days and if you don't gain any benefit, get 100% of your money back

30 Day Money Back Guarantee There's absolute no-risk to reading this book
Great timing!
I have been dealing with endometriosis for many years. This supplement is the first time in a long time that I have felt more normal and happier overall. I look forward to the continued benefit.
So far so good
I have been using endolls for almost a few weeks and I think so far it has been definitely helping with my mood and with pain. I have not yet gotten my period while on it yet so I will update the review when that occurs. One downside I noticed is that it seemed to flare my melasma up a little bit so I'm hoping that will lessen once my body adjusts to enrolls. But so far so good. It's helping.
Magic In A Bottle
I have Endometriosis Stage 4 and ENDOLLS is the best thing I have EVER come across. I will be forever grateful. THANK YOU!!!!!!!!
Endolls saved my life!
I was diagnosed with an adavanced stage of endo and adenomyosis. I experienced the most excruciating pain in my life. I had to endure this at least twice a month that would last 3-5 days. It was absolutely exhausting. Being dosed up on painkillers and bed ridden, was a rubbish way of life. I fell into depression! I then came across Endolls. They really did save my life. Within 24 hours, the pain eased and the bloat vanished completely. I no longer have pain or swelling during my cycle. I take these supplements daily without fail. I can finally exercise again and feel good about myself. Ladies, don't suffer. You really have nothing to lose by trying these. You won't regret it.
Remarkable
Being misdiagnosed for 7 years 28, and ttc for 10, I have never felt more understood. I am almost done reading the burning path. I wanted to wait for a full cycle to see the full spectrum, I could cry. I have had a lap done. I have been told I have minimal options for children and im already overjoyed because my period is so small I just have 1000% trust in this company. Prenurse student here and this had made me want to continue to help women sooner than later find this company. You guys are truly beautiful. Thank you for understanding me giving me and my husband hope. The fact that you could break down all of my unexplained symptoms through science when doctors couldn't was a green flag for me. I havent seen this much compassion and respect for my situation in person by professionals. You were able to give that in writing. Thank you to you and your lovely family. It was meant to be. I have sent your companies name to people ai don't know, coworkers, and even tik tokers because we deserve to understand. You took the time to help us with this. Being so lost before this, I am very greatful l.